The Leading Roof Leak Repair Contractor in Riverside CA
Wind and rain damage can severely harm your home's roof. It is recommended that immediately following a nasty storm, you should have your roof inspected. A Professional Riverside roof leak repair contractor may be needed to prevent further harm to the integrity of the roof when the next storm hits and it is crucial to ensure that your family has sufficient protection from the harsh outdoor elements.
Types of Storm Damage
The outside environment can be unforgiving and there are several different ways storm damage can affect the structural integrity of your roof and its capacity to keep you and your family safe. The 3 most common types of roof damage San Bernardino and Riverside County Residents deal with, are explained below:
Roof Debri Damage
Roof debris damage can occur with or without a storm but is more common when a storm creates a windy commotion in the trees above your roof and causes one of the branches from the trees to break off and fall to the roof. Although not as common, strong winds like the Santa Ana winds here in the inland empire can lift hard objects and knock them onto the roof with a major impact that can create a lot of damage. Depending on the size of the object or debris and the force of the impact; small or large size indentations, holes and tears can appear from the blow which require immediate roof repair. Sometimes though, an object can hit the roof and the damage is not always visible. One example is when an object hits an asphalt shingle roof and the top of the shingle looks fine, but the bottom side of the shingle has been damaged; which to the naked eye doesn't look bad bu it can lead to warping, cupping or bubbling.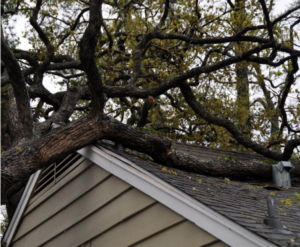 If you see an object like a tree branch on your roof or have known about it for a while, it is very important to have a local roofer come out and inspect your roof to check for any possible damages. Call THOMPSON ROOFING at 909-377-4402 so we can provide a free inspection of your roof's home.
Roof Rain Damage
Even though Southern Californians do not get a lot of rain, when it happens; it can rain heavily and many don't realize the compound effect that heavy rainstorms have on a roof over a long period of time, especially when the roof has not been inspected on a consistent basis. Severe rain or roof leak damage can cause considerable harm to various roofing materials. The most infamous water damage issue is a leaky roof that seeps through and creates destructive pools of water that generate brown rings on your ceiling. Once this has occurred, roof repair or roof replacement will most likely be required. It is crucial to handle rain damage quickly to prevent a roof replacement that could have easily been managed with a simple roof repair. If you start to see a small ring on your ceiling, it is time to contact a licensed roofer like Thompson Roofing to come out and assess the affected area.
Roof Wind Damage
Riverside and San Bernardino County residents are aware of the notorious Santa Ana winds that plague the cities and towns in the region. As stated above, the winds can lift, push, and drop debris on your roof causing considerable damage. However, this is not the only way a windstorm can create disaster to your roof. Wind is a hidden assassin to your roof's materials. During most of the year, your roof is getting scorched by the blazing sun and although there are not a lot of rainy days or rainstorms during the year as we discussed above, rain can compromise a roof as well, as it compounds year after year unchecked. The hidden adversary is the wind that comes to finish the roof off. After several cycles of getting baked in the sun and rain, your roofing materials begin to wear and lose their material integrity. Now comes the wind that shifts your tiles, lifts your asphalt shingles, and can even remove the shingles and tiles completely. Therefore, getting regular roof inspections is particularly important. Your local roofer can get up on your roof and check several areas of importance. Some of the most important areas a professional roofing contractor can look for are areas around the chimney, (if you have one) eaves, roofing vents, skylights, and roof flashings that connect the roof to a vertical surface like a wall to a second story for example. Flashings also wick water away from the wall to roof intersection and prevent water from penetrating the connection cracks and or direct the rain onto the shingle or tile where it is supposed to go. To learn more, click on THOMPSON ROOFING'S Roof Repair Page to learn more.
Temporary Storm Damage Repair Measures
After a major storm, you may have to take some self-emergency leaky roof damage measures on your own to prevent the damage from getting worse, until a professional roofing contractor can respond. Depending on when the damage occurs, there may be a gap in time when a roofing specialist can arrive. To defend against further damage, you might need to perform emergency roof leak repairs yourself. In the case of a heavy rainstorm, the priority is to keep the rain and water from coming inside your home. However, before you start, make sure that you remain cautious of any exposed electrical wires and make sure the main power supply to your home is turned off. You also want to make sure to acquire competent assistance from family or friends.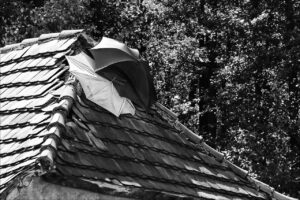 To keep further rain and debris from entering your home, you need to obtain a water-resistant tarp with grommets so that you can secure the ends of the tarp to the roof. Pull the ends tightly and find a way to tie it down so that a gust of wind cannot easily remove it; creating a headache because of several trips up to the roof to reapply it. One other temporary roof leak repair measure for small damages, is to get up on the roof with a secure ladder, safety equipment, support ropes, and get a friend or family member help you search for any damaged or missing shingles and or possibly holes. Once found, use a roof sealant to temporarily seal up the hole or holes until a roofing specialist can arrive to fix it permanently. Again, make sure to implement all crucial safety precautions prior to and during a do-it-yourself leaky roof repair measure. Contact a Local Roofing Contractor as Soon as Possible like THOMPSON ROOFING in Riverside CA to get the job done right, the first time. After you have momentarily secured your damaged roof properly with a water-resistant tarp or sealant the best you can, you will need to call an experienced roofing contractor to repair the rain damage permanently. The skilled roofer can correctly repair the harm that the rain inflicted on your roof and prevent any further damages with the most cost-efficient roof leak repair measures overall. If you have any further questions, you can give us a call at 909-377-4402 and we will get back to you ASAP. Thank you for taking the time to learn more about roof leak repair in and near Riverside and learning about our family owned and local Riverside roofing company with 30 years of service to the Riverside County community.
Emergency Roof Repairs

Storm damage? THOMPSON ROOFING | RIVERSIDE ROOFING offers 24-hour emergency roof repair

Roof Maintenance

Top quality residential & commercial roofing inspections and repair services
New Roof Installation

THOMPSON ROOFING | RIVERSIDE ROOFING offers quality, affordable & durable roofs in a wide variety of colors

Roof Cleaning

For safe and effective roof cleaning in Riverside call THOMPSON ROOFING | RIVERSIDE ROOFING today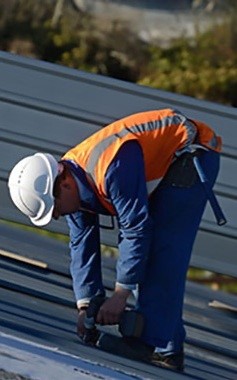 Garage Roof Repair

Is your garage roof sagging? We can help! Call THOMPSON ROOFING | RIVERSIDE ROOFING today for a quote

Siding Repair

We are one-stop-shop in Riverside for siding repair and installation.
Dormer Window Installation

Dormer windows can brighten up that your attic. Call for a quotation

Roofing Finance

Call THOMPSON ROOFING | RIVERSIDE ROOFING today to discuss your Riverside roofing finance options
LET'S DISCUS YOUR ROOFING NEEDS!
If you are in need of a new roof or perhaps a roof repair, then we'd be more than happy to provide you with a FREE, no-obligation quotation.
WOULD YOU LIKE A FREE ROOF INSPECTION?
How comfortable are you with the current state of your roof? When was the last time you had it inspected? We'd be happy to provide with a FREE inspection to put your mind at ease.