Residential Roof Replacement Riverside CA
A high-quality roof not only looks amazing and shelters your loved ones and belongings, but it is also supposed to last for many years. However, what happens when too many years have passes, and deterioration starts to occur? What do you do when a rainstorm damages the roof you have depended on throughout the years? Do you know how to handle water leaks or stains? We do! Call Thompson Roofing, the local riverside roofer you can trust.
We all know that having a professionally installed roof is essential to the protection and durability of your home but knowing when to replace your roof when it starts to deteriorate is a possible circumstance you will need to consider. Heavy rain, an aged roof, and the expected wear and tear all contribute to a deteriorating roof, but do not fret, our company has expert roofing contractors to help you get it back into working condition again.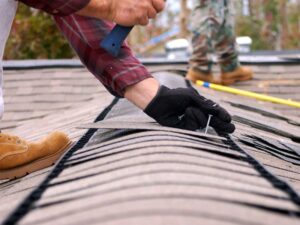 Here at Thompson Roofing, our experienced roofing professionals perform high quality roofing services to inspect, replace, repair and or install an elegant looking roof for your home. We are highly skilled roofers in your local riverside community who serve you with an approachable smile and maintain professionalism throughout every interaction. Let us fulfill your roof replacement needs.
With over 30 years of professional roofing experience, our truthful suggestions about the condition of your roof will keep your mind at ease because we are there to tackle the problem at hand. We will not try to add services or upsell you on things that you do not need. Our goal is to earn your trust every time we meet each other.
Are you worried that you may need roof replacement?
Contact us today to schedule a free consultation with one of our reputable residential roofers. We will conduct a complete (thorough) inspection and upon the conclusion of our findings, we can give you honest advice on whether your roof needs to be replaced or repaired.
How to know when it is time for Roof Replacement?
Leaky Roof
One of the most obvious signs that a roof needs to be replaced is when there is severe water damage. Brown stains that form a circle on your ceiling is irrefutable proof that your roof is not doing the essential task of protecting your home from the elements.
A small leak if caught early can be fixed fast and quite easily with a simple repair. However, if you start to notice several water stains on the ceiling in different areas or a large brown water stain, it is crucial that you take care of it as soon as possible. This is a sign that you may need a full roof replacement.
Missing or Damaged Shingles
Another indicator that you may need a roof replacement, is an area on the roof that has been damaged or you have some missing shingles. Although Sothern California Residents (Like ourselves) do not get the snow and hail that other states must deal with, we sometimes take that for granted and mistakenly believe that our roofs will last forever.
The Problem with that mindset is that even Riverside County Residents must deal with rainstorms and heavy wind. One or two storms may not cause any damage right away but after many years of neglect and not keeping an eye on the condition of your roof, that same rain and wind can damage the shingles or slates and even remove them from your roof completely. So, with that in mind, it is imperative that you visually inspect your roof and when you notice any damaged or missing shingles, it is time to contact an experienced roofer right away.
Roof is Aged
In roofing, some roofs last longer than others. For example, clay and tile roofs have been known to last for more than 50 years in California. However, the most common roofing material used; because of its affordability, is asphalt shingles. Asphalt shingle roofs usually only last about 20 or so years.
Consequently, many homeowners purchased their homes not knowing how long ago the roof was installed or replaced, which means a roof replacement may need to occur on your home sooner than you think. On the other hand, if you know that the lifetime of your roof is almost up, it is a wise decision to begin thinking about hiring a roof replacement company.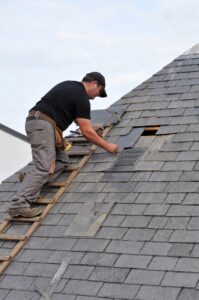 When visually inspecting your roof and you notice any signs of these roofing problems, you should give our team of professionals a call right away. Do not let a leaky or aging roof get out of hand; call us at 909 377-4402 to schedule an obligation free inspection with our roof replacement contractors today.
Roof Replacement VS. Roof Repair
At Thompson Roofing, we conduct both roof replacements and roof repairs. Although similar is some ways; they are however quite different when it comes to renovations. Roof repair deals with smaller issues like an isolated leak or missing shingles in a few areas. They are relatively easy to fix but are necessary for the health of your roof.
Roof replacement on the other hand is a different animal. For this process we must remove your existing damaged roof and replace it with a new one that is safe and functioning the way it is supposed to. Therefore, regular inspections are extremely important.
Our roofing specialists are ready to perform a comprehensive roof inspection to give you a better idea about whether you need minimal roof repair or if you should get a full roof replacement. It goes without saying that new roofs may only need small adjustments whereas an aged roof that has been berated by more than a few rainstorms will require an entirely new roof to protect you and your family from the outside elements.
If you are unsure whether you need roof repair or roof replacement, then you should contact us to arrange a thorough inspection by one of our trustworthy roofing contractors
Local Roof Replacement Services
Our licensed, skilled and professional roofers are available to help you with any of your residential roofing requirements. You can count on us to get any roofing job done. Furthermore, we take pride in overdelivering the highest level of customer service to our Riverside County customers, and as a local roofing company, it is our goal to maintain a courteous and respectful relationship with our community and neighboring areas.
Our services start with a comprehensive assessment and we continually keep you informed during the whole process until your project has been completed. We are humbled with the 5-star reviews that we have received from our happy customers; they speak for themselves. We stay persistent and vigilant when it comes to catering to our clients wants and needs, like cleaning up our messes after each workday to delivering a durable and superior roof, utilizing our skills and expertise.
We understand that replacing your roof can be a significant economic hardship. Most of the time, a roofing disaster occurs out of the blue and when we are not ready for it. It is also understandable that homeowners feel overwhelmed by the cost of a roof replacement, so we do everything in our power to work with our customers to come up with the most affordable or budget friendly option that works for your unique situation.
And…although the roof replacement stays within your budget, we will not sacrifice the quality of our work, the product or the customer service throughout the construction of your home. Call us today to request a free consultation so we can provide you with a unique quote for your specific roofing replacement needs. We at Thompson Roofing are excited to get an appointment set up, and we cannot wait to start the remodeling process on your Riverside home. Get in touch with us today!
Emergency Roof Repairs

Storm damage? THOMPSON ROOFING | RIVERSIDE ROOFING offers 24-hour emergency roof repair

Roofing Inspection

Top quality residential & commercial roofing inspections.
New Roof Installation

THOMPSON ROOFING | RIVERSIDE ROOFING offers quality, affordable & durable roofs in a wide variety of colors

Roof Cleaning

For safe and effective roof cleaning in Riverside call THOMPSON ROOFING | RIVERSIDE ROOFING today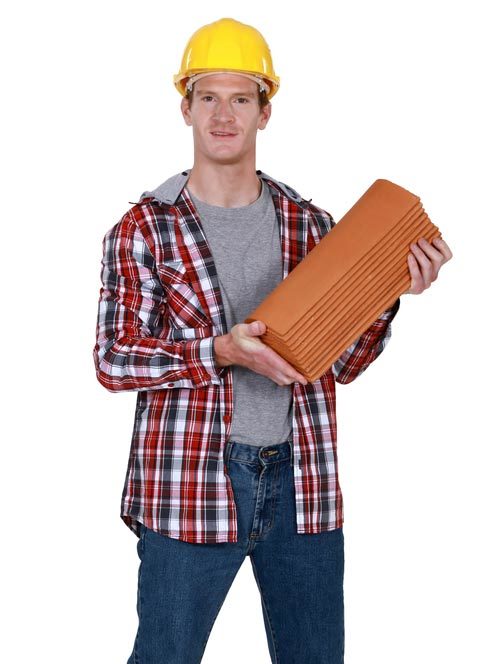 Garage Roof Repair

Is your garage roof sagging? We can help! Call THOMPSON ROOFING | RIVERSIDE ROOFING today for a quote

Siding Repair

We are one-stop-shop in Riverside for siding repair and installation.
Dormer Window Installation

Dormer windows can brighten up that your attic. Call for a quotation

Roofing Finance

Call THOMPSON ROOFING | RIVERSIDE ROOFING today to discuss your Riverside roofing finance options
LET'S DISCUS YOUR ROOFING NEEDS!
If you are in need of a new roof or perhaps a roof repair, then we'd be more than happy to provide you with a FREE, no-obligation quotation.
WOULD YOU LIKE A FREE ROOF INSPECTION?
How comfortable are you with the current state of your roof? When was the last time you had it inspected? We'd be happy to provide with a FREE inspection to put your mind at ease.