The Premier Residential Roof Repair Riverside CA
Now that you've bought a new house, you notice that the roof looks very durable and the quality appears superb, but is it? The most common roofs: asphalt shingle roofs, last about 20 years and many new homeowners believe that their roof will last that long. The issue is that the new home that they bought, may have had that roof on it for a while; prior to their purchase.
Despite that, a roof's lifespan can be prolonged with continual maintenance. Thus, it is paramount to make sure your roof gets inspected on a regular basis to check for any roof repair issues it may have. For 30 years, Thompson Roofing has been your local Riverside roof repair specialists.
Our trustworthy Riverside roofing contractors are highly trained in performing thorough roof inspections and we give you expert advice on the condition of the damage. We will not try to add on services or upsell you unless your truly need it. Roofing is something you should leave to the professionals.
We have years of experience, the correct tools to get the job done right and the knowledge of how to fix a variety of roof repair problems. So, let us earn your trust and protect your home from any further damage that may occur by procrastinating.
If you believe for any reason that your roof may need a professional Roof Inspection to check for defects, then call Thompson Roofing today and we will conduct a comprehensive roof inspection to make sure that you don't have any damaged or missing shingles, possible leaks hidden from the naked eye or anything that may affect the structural-integrity of the roof.
The Difference Between Roof Repair and Roof Replacement
When you look at the words repair and replacement, they seem remarkably similar but in the world of roofing, the procedures are quite different from each other. Roof replacement involves removing your damaged roof completely and putting on a new one. Roof Repair on the other hand, is a procedure where a simple shingle is replaced, or a small leak needs to be patched up.
Keep in mind though that if you allow a minor roof repair defect to go unchecked for too long, then you are more susceptible to going from a simple repair to a full roof replacement in a blink of an eye. Do not allow this to happen because roof replacements are costly and take more time to fix.
Why Should You Get Your Roof Repaired?
In the present, you may look at your roof from the street level and think that "it's fine" because you do not see any major wear and tear at that distance with the naked eye. Consequently, it is crucial to think about the longevity of your roof and to keep in mind that regular inspections are necessary to keep your roof working properly. Below we will go over a few reasons why you should get your roof repaired.
The first reason to get your roof repaired as soon as possible is because you will save money over a long period of time. One might not want to repair a simple small leak because it does not appear that bad or they think it is too much money at the time. The problem is that a new roof replacement will cost homeowners a lot more if they do not address the easy repair now.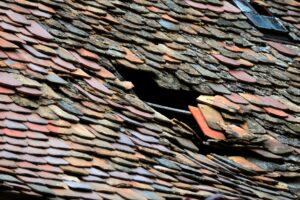 Getting a complete roof inspection every few years or so will save homeowners thousands by catching simple roof repairs right away and getting them fixed. Additionally, most homeowners do not think about the condition of their roof. Therefore, it is vital to have a roof repair contractor come over and inspect your whole roof for any discrepancies you may not notice with the naked eye.
There could be several areas underneath the roof that are causing problems to the structural integrity that you can not see. If by chance you can see leaks or damage on the roof in plain view, then the deterioration is probably too far gone. Avoid the headache of spending more of your hard-earned cash and your precious time on a roof replacement and conduct regular maintenance inspections to catch any minor roof repairs early.
Schedule a Roof Repair Consultation
When you set up a meeting with a roof repair specialist from THOMPSON ROOFING, they can perform a free roof inspection for you and discuss how to properly maintain your roof for years to come. The roofing contractor can also give you an idea or a time frame for when it may be necessary to have a full roof replacement completed. You will be given information on how long your current roof may have left and you can go over with them, the approximate cost and future materials that you may want to upgrade to, that way you can plan and save for the future when a replacement is needed.
Thompson Roofing understands that maintaining your roof is a challenge, so we are here to help you understand the whole process with excellent customer service, courteousness, and respect. We are the premier roof repair professionals in Riverside ca and live in the community we serve. We recognize the common roofing problems that our neighborhood has with the wind and rain damage and why having a durable roof is extremely important but most importantly why customer service in our area is paramount.
We strive to be courteous, respectful, and professional in every interaction with you. Our roofers are ready to work with you through every stage of the project and our affordable roofing services work with anyone's budget when we discuss your options. Gary Thompson and his crew believe that everyone deserves an exceptional roof that protects them from the outside elements, and we want you to have a roof that you can always be proud of.
Gaining many 5-star reviews over the years, we like to say that they speak for themselves. At THOMPSON ROOFING, we believe the awesome testimonials is because of our amazing after-sales services, our affordability, and the highest quality materials we use to complete your roof job or project. Thank you, for all the words of kindness. If interested in our other services, check out our Re-roof vs Roof Replacement Page to learn about the differences.
Contact us; your local Riverside, and Inland Empire Roofers for a free inspection consultation, and one of our roofing specialists will evaluate your roofing condition, respond right away, and conduct a roof repair that is easy on the wallet. Call us now!
Emergency Roof Repairs

Storm damage? THOMPSON ROOFING | RIVERSIDE ROOFING offers 24-hour emergency roof repair

Roof Maintenance

Top quality residential & commercial roofing inspections and repair services
New Roof Installation

THOMPSON ROOFING | RIVERSIDE ROOFING offers quality, affordable & durable roofs in a wide variety of colors

Roof Cleaning

For safe and effective roof cleaning in Riverside call THOMPSON ROOFING | RIVERSIDE ROOFING today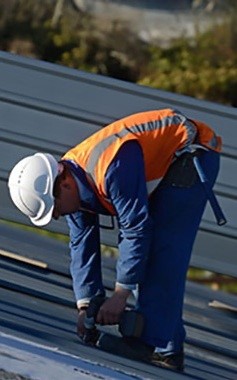 Garage Roof Repair

Is your garage roof sagging? We can help! Call THOMPSON ROOFING | RIVERSIDE ROOFING today for a quote

Siding Repair

We are one-stop-shop in Riverside for siding repair and installation.
Dormer Window Installation

Dormer windows can brighten up that your attic. Call for a quotation

Roofing Finance

Call THOMPSON ROOFING | RIVERSIDE ROOFING today to discuss your Riverside roofing finance options
LET'S DISCUS YOUR ROOFING NEEDS!
If you are in need of a new roof or perhaps a roof repair, then we'd be more than happy to provide you with a FREE, no-obligation quotation.
WOULD YOU LIKE A FREE ROOF INSPECTION?
How comfortable are you with the current state of your roof? When was the last time you had it inspected? We'd be happy to provide with a FREE inspection to put your mind at ease.