The Difference Between a Re-roof and a Roof Replacement
in Riverside County
Everyone knows that the roof on your home is the priciest investment, second only to buying a house. With that being said, it also creates enormous equity and can generate the largest return on your investment in the end. In Fact, according to (IKO) "a new roof can increase a home's value by $15,427, which comes out to about 68% return on investment at the time of the resell." (https://www.iko.com/na/blog/does-a-new-roof-increase-home-value/)".
Additionally, many real estate agents attribute a new looking roof for quick sales. So, if you want to take advantage of great equity and a fast sale and you know your roof needs a replacement, get it done. Consequently, you may have questions when it comes to getting your home's roof restored. One major question is, which restoration do I need; do I need a re-roof or a full roof replacement? We will look at the differences below.
What is Re-roofing?
Re-roofing is the most affordable and fastest way to get your roof restored and looking like new again. When a home owner decides to re-roof, what they are asking is for is new shingles placed on top of the old and worn shingles making it look like a totally new roof, plus it provides a protective second layer and prevents leaks from seeping into your home.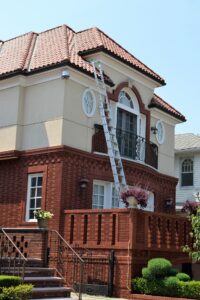 This process may sound amazing, but the next question is, are you a good candidate for a re-roof?
The answer is that it depends on how many layers of shingles you already have on your roof. If you only have the original one layer of shingles on your roof, then you are a great candidate. Alternatively, if your roof already has two layers of shingles then you are not a good candidate because building codes in most State's forbid a third layer of shingles. In this situation, the only other option is to get a complete roof replacement.
The Pros and Cons of Re-Roofing
Even though you may be a great candidate for a re-roof, you may still want to look at all the aspects of a Re-roof restoration. Let's take a look below and distinguish between the positive and negative attributes to getting a Re-roof done.
The Pros of Re-Roofing
Re-roofing is the most budget-friendly option to repair your roof because it does not require expensive materials.

It is not labor intensive and that also reflects the cost savings for you.

You do not have to get a full roof replacement; meaning that it is also the quickest restoration option to make your roof look like new again; saving time.
The Cons of Re-Roofing
You can not get a re-roof if you have a metal roof. (It is not recommended)

If your roof already has two layers, then a third layer can not be added due to building code laws.

Re-roofing may be the most affordable option, but it does not last as long as a complete roof replacement.

Since you are not lifting and checking under the current shingles, you cannot look and see if there is any existing damage underneath like sagging, or rotting. Therefore, adding a new layer over the original shingles would be counterproductive to your time and wallet.
Now that we have gone over the pros and cons of getting a re-roof, it is imperative to consult a professional roofer like Thompson Roofing | Commercial / Residential so that they can get up on your roof, inspect the condition, and give you the best option for your roof's renovation. You can reach out to us through our email Contact Us page. Let's take a look at the pros and cons of a Roof Replacement now.
What is Roof Replacement?
The difference between a re-roof and a roof replacement is that when you request a roof replacement, the current shingles on your roof are completely removed from your roof and all that is left is the bare deck and the roofer will now build your roof from scratch.
The first thing that will be applied after the shingles are removed is felt paper that protects it from the harsh outside elements like water and debris.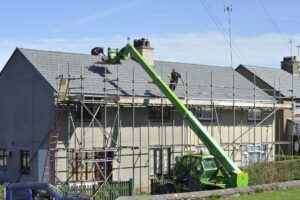 Secondly, your new roofing materials like shingles or tiles are installed on top of the protective paper and if applied properly, your new roof can last you for over 20 to 25 years. (depending on your outside environment and location)
Note: Keep in mind that when the roofer removes the old shingles or tiles and discovers a damaged deck foundation, it will need to be repaired before any shingles are installed so prepare yourself for that possible extra expense. To learn more visit our Roof Replacement page
The Pros of Roof Replacement
A roof replacement will allow discovery of a damaged deck which can be repaired before shingles are applied and not mask the damages by placing shingles on top of it.

Exposing the deck and starting from scratch saves you money in the long run because down the road if there was damage to the deck, that damage will have to be repaired and shingles removed.

Roof replacements are longer lasting and if installed correctly, it can last for over 20 years with minimal maintenance.
The Cons of Roof Replacement
Roof replacements are more labor intensive.

Completely removing the shingles from the deck requires more roofing materials

A complete roof replacement takes more time

Because of the above reasons, it will cost more.
Get a Free Roof Inspection and Free Roofing Estimate
We have now discussed the differences between a Re-roof, a complete roof replacement and the pros and cons of each restoration. If you have gotten this far and you are still unsure about which procedure your home may need, you can give us a call at 909-377-4402 and we would be happy to come out.
We'll get on your roof, provide a free roof inspection, and give you a ballpark estimate on how much your roof restoration is going to cost. Also, feel free to visit our Residential Roof Repair page to obtain more information. Thank you for visiting our website, Click THOMPSON ROOFING to go back to the Home page. Call us now!
Emergency Roof Repairs

Storm damage? THOMPSON ROOFING | RIVERSIDE ROOFING offers 24-hour emergency roof repair

Roof Maintenance

Top quality residential & commercial roofing inspections and repair services
New Roof Installation

THOMPSON ROOFING | RIVERSIDE ROOFING offers quality, affordable & durable roofs in a wide variety of colors

Roof Cleaning

For safe and effective roof cleaning in Riverside call THOMPSON ROOFING | RIVERSIDE ROOFING today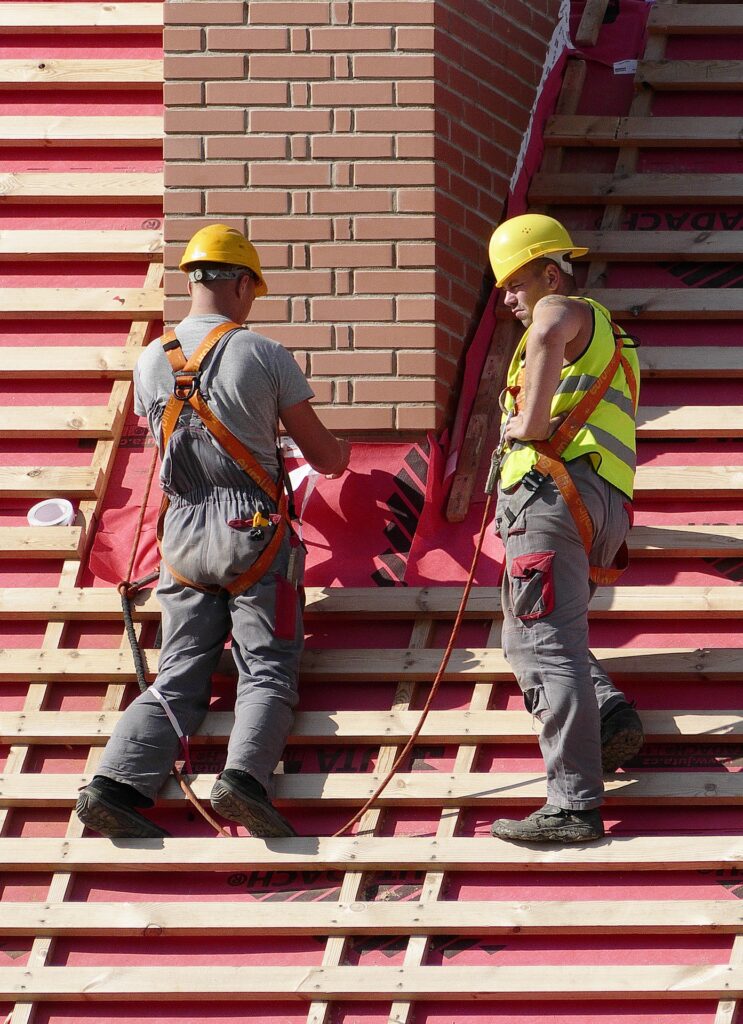 Garage Roof Repair

Is your garage roof sagging? We can help! Call THOMPSON ROOFING | RIVERSIDE ROOFING today for a quote

Siding Repair

We are one-stop-shop in Riverside for siding repair and installation.
Dormer Window Installation

Dormer windows can brighten up that your attic. Call for a quotation

Roofing Finance

Call THOMPSON ROOFING | RIVERSIDE ROOFING today to discuss your Riverside roofing finance options
LET'S DISCUS YOUR ROOFING NEEDS!
If you are in need of a new roof or perhaps a roof repair, then we'd be more than happy to provide you with a FREE, no-obligation quotation.
WOULD YOU LIKE A FREE ROOF INSPECTION?
How comfortable are you with the current state of your roof? When was the last time you had it inspected? We'd be happy to provide with a FREE inspection to put your mind at ease.