New Roof Installation in Riverside, CA
Deciding to install a new roof in Riverside can be a little intimidating for many homeowners. Many ponder, overthink and at times get a case of analysis paralysis and they just don't start the process. Be as that may, asking questions like: What is the best roofing material? Or, what is the most cost-effective option is a great start. Learning about the whole process though, will help ease the anxiety of starting a new roof installation.
From learning about the installation process below to what types of residential roofing options are possible, and why Thompson Roofing; who has continually received amazing Reviews from (YELP, Google) our happy customers in Riverside, we believe you will come to the conclusion that we're THE local roofing company to choose for your new roof installation project. Contact Us or Call 909-377-4402 to schedule a free consultation today
New Roof Installation Process
Having a new roof installed isn't something one should try to do by themselves. It takes years of training for roofing contractors to hone their professional trade skills. Licensed Roofers are necessary for a few reasons. For one, their trained eye is crucial for an aligned roof, because inches and even millimeters can warp the look of your new roof and ruin the installation. Secondly, you might think you're trying to save money by doing it yourself.
On the contrary, if the roof is not done correctly and it begins to fall apart, then you've not only wasted money, you have wasted time, as it will need to be redone. So now that you understand why you need to hire a professional roofing contractor, let's take a look at the new roof installation process from the beginning to the end below:
Free Roofing Consultation
The first step in having a new roof installed is to meet with an experienced roof installation company like Thompson Roofing. Taking part in the free consultation is an important stage because you will get to meet one of our skilled contractors, determine the best roofing options for you and establish a specified budget we need to follow for your personalized project.
New Roof Installation Begins
Once your guidelines have been established, our professional installation contractors get to work right away on your project in a timely and cost-effective manner. We believe that time is a valuable asset that should not be wasted, so the less time it takes us to complete your roof, the more money you will save on labor.
In addition, we don't want to overstay our welcome and we go out of our way to respect your personal space and property. Every day we'll be steadily working on the completion of your new roof and we will make sure to clean up our messes throughout the day to prevent your neighbors from becoming irritated and your family happy. Why? Because let's face it, no one wants to feel like they live in or around a construction zone.
Before you know it, the roofing installation will be finished, we will be out of your hair, and you will have an amazing new roof that will be the talk of the neighborhood for years to come. Everybody knows that a roof protects you and your family from the harsh outside elements but many do not realize that when you make an educated decision to invest in a new roof installation, it also increases the value of your home in several ways.
At Thompson Roofing, our expert roof installation contractors use the highest quality materials to create your new roof. You and your family will feel safe and sleep comfortably at night knowing that a professionally installed roof was finished and done right the first time.
Roofing Types Available
There are several types of roofing material available when you work with Thompson Roofing. We are experienced and work with, asphalt shingles, cedar shake, clay & tile, metal roofs, and in commercial roofing we work with flat roofs for businesses and other buildings that have a flat surface.
Asphalt shingles are the most common roofing material used because of their durability and affordability. Cedar shake (shingles) made from natural hard cedar; are strong and long-lasting but are prone to water damage, color disfiguration and the shakes can warp. Clay, Tile and metal roofing materials are extremely rugged and protective but because of the extra weight and modifications that need to be applied to the roof to support it, they are not used as often by homeowners.
After nearly 30 years in roofing, we have noticed that the #1 reason customers decide on a roofing material for their new roof installation is the price. As stated above, Asphalt shingles are the most budget-friendly, so it is no surprise that they are the most sought after. With that being said, we provide the highest-quality materials, so Asphalt shingles are still a great roofing option regardless of price.
Clients often choose Cedar shake, clay or tile shingles for their unique beauty and ingenuity. Cedar shingles give a home a rural or county style appearance while clay & tile present a more urban or modern look. Although many choose these options to stand out from the crowd and prefer originality, these type of materials for your roof installation will be the most expensive overall option.
Specializing in Roof Installation and More
Even though new roof installations are our specialty, Thompson Roofing offers much, much more. We offer free roof inspections; we do roof replacements and we perform roof repairs. Gary Thompson and company are a family owned and operated business, local to Riverside ca and are dedicated to delivering excellent customer service with the talent and skills to complete any roofing task that needs to be done.
Moreover, we are Riverside Homeowners ourselves. We know the affects that the scorching sun, heavy wind and rain have on our roof. We are also mindful about how costly roof installation is, so Thompson Roofing offers affordable roofing services for your roof installation project. We are positive that we can work with you and your family's budget while also providing you with an amazing roof install, roof replacement or a satisfying roof repair done right.
Call for an estimate to set up a free consultation for a new roof installation today!
Emergency Roof Repairs

Storm damage? THOMPSON ROOFING | RIVERSIDE ROOFING offers 24-hour emergency roof repair

Roof Maintenance

Top quality residential & commercial roofing inspections and repair services
New Roof Installation

THOMPSON ROOFING | RIVERSIDE ROOFING offers quality, affordable & durable roofs in a wide variety of colors

Roof Cleaning

For safe and effective roof cleaning in Riverside call THOMPSON ROOFING | RIVERSIDE ROOFING today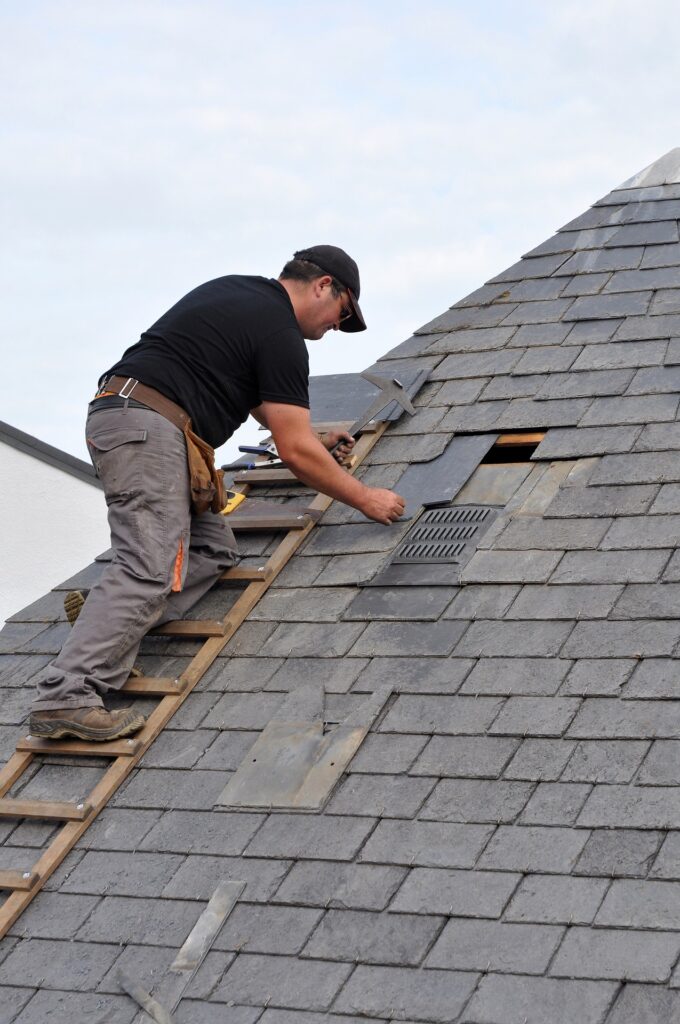 Garage Roof Repair

Is your garage roof sagging? We can help! Call THOMPSON ROOFING | RIVERSIDE ROOFING today for a quote

Siding Repair

We are one-stop-shop in Riverside for siding repair and installation.
Dormer Window Installation

Dormer windows can brighten up that your attic. Call for a quotation

Roofing Finance

Call THOMPSON ROOFING | RIVERSIDE ROOFING today to discuss your Riverside roofing finance options
LET'S DISCUS YOUR ROOFING NEEDS!
If you are in need of a new roof or perhaps a roof repair, then we'd be more than happy to provide you with a FREE, no-obligation quotation.
WOULD YOU LIKE A FREE ROOF INSPECTION?
How comfortable are you with the current state of your roof? When was the last time you had it inspected? We'd be happy to provide with a FREE inspection to put your mind at ease.